A key issue for any community network is the hardware users have to have to connect to the network. Certainly that was a, perhaps the, big issue during the fiber fight here in Lafayette. LCG and LUS promised to work hard to get appropriate hardware into poorer households. (We've been keeping our eyes open here. —1,2, among others.)
That's getting cheaper. Amazingly cheaper. We've reported on cheap alternatives before but today's winner in the cheap Network Attached Device (NAD) sweepstakes is a little laptop that cost 130 dollars apiece in batches of 50… Well, wow……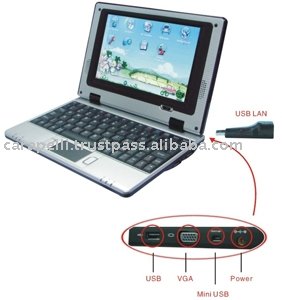 You can get 50 for 6500 dollars.
The device is one of the new category christened "netbooks." (Remember "ultraportables?" Like that. Only less.)
The price of these guys continues to fall….without visible limit. At 130 dollars a pop this would make a very interesting—and pretty damned affordable—digital divide device.
Not a perfect one, mind you. The specs are kinda puny, in line with the price: A 7 inch screen, a slow (by this year's standards) processor, no wifi, no hard drive (well a, 1 gig solid state drive, aka flash memory).
The lack of wifi or even a real network connection makes this thing a poor digital divide for Lafayette. A laptop whose only connectivity if via a dongle? Hunh? Sometimes you really do need to talk to the marketing guys. But if it had wifi then a network like Lafayette's could easily make up for the meager specs in things like storage space and processor power. That can all be located on the network. All you need to have in your mobile device is a fast way to get online and the capacity to run a decent browser. In lafayette the 100 meg intranet will allow anyone to run programs and store data online without much penalty. (Imagine an on-network server with all of Google's apps — or a homegrown equivalent– serving out services over a 100 meg connection. Who needs to pay endlessly to keep up Microsoft Office?)
This may not be quite the thing. But the day is coming when a iPhone type device is crossed with a tiny laptop like this and becomes the tote-around thing to keep you connected and on top of your work. …
And when it comes it will cost less than 130 dollars. And places like Lafayette will be where it will be most valuable. Keep you eyes open.