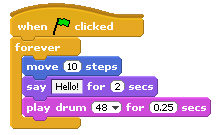 Ok, so it is late on Saturday for a Saturday Something ToDo posting. So sue me. 🙂 If you've got some kids in the youngster to adolescent range to entertain over the long Memorial Day weekend you might really want to give this one a try.
And it is a great one: A new addictive Educational Toy called Scratch. It lets kids (and adults who are young at heart) build nifty animations. You can draw your own characters with some included tools or import a photo to use as an avatar. Then put as many as you like on the same "stage" and animate them. If you like what you get you can always upload it and share.
Oh, did I mention? It's a free download.
While all that is cool, the real secret is that it is all driven by a pretty complete programming language. (Don't bother to tell the kids, they won't be impressed) It's a dead easy way for kids, or anyone, to really get a feel for programming and standard programming structures. And that, actually, is the point. (Again, no need to play this point up with the kids.) The program is the brainchild of Mitch Resnick and his "Lifelong Kindergarten" lab at the MIT Media Lab. It is an inheritor of other nifty software devices like logo, lego-logo, mindstorms robotics (also recommended) and squeak. They all focused on giving kids easy access to fundamental programming tools in a environment that made learning a natural product of activity rather than an exercise is abstraction and memorization.
I could try and explain how it works but it'd be much more effective for you to go to the BBC article and play the video found there. (You can read the excellent story too, but that is less immediately informative than the demonstration.)
Then travel to the Scratch website and poke around. If you'd really like to get a picture of the motivation behind Scratch then play the Real Media file that tries to explain the purpose of the program.
Download the program (OSX or Windows, Linux upcoming). I mentioned that it's free, right?
Play. Give it to kids to play with. Sit back and watch them tinker a new little world into existence.
—-
Obligatory bandwidth/philosophy plug: Being able to generate, trade, and interactively collaborate on making things–not just consuming them–is one of the best reasons to want real bandwidth. It's our kids who will live in the promised land. We will only catch a glimpse of the world they will be able to create.
[Thanks to both the friend and the son-in-law who pointed me to this one over the last week.]